PLEASE NOTE, VERY IMPORTANT!
Do you have any cold-symptoms, including cold in the nose, runny nose, soar throat, mild cough or a temperature higher than 38 degrees Celsius/1--.4 Fahrenheit? If yes, you are requested to stay home and not come to the hotel.
It is important that you follow the instructions of the hotel staff members during your stay with us. Additionally, all guests and staff members at our hotel are requested to carefully follow the precautionary measures below: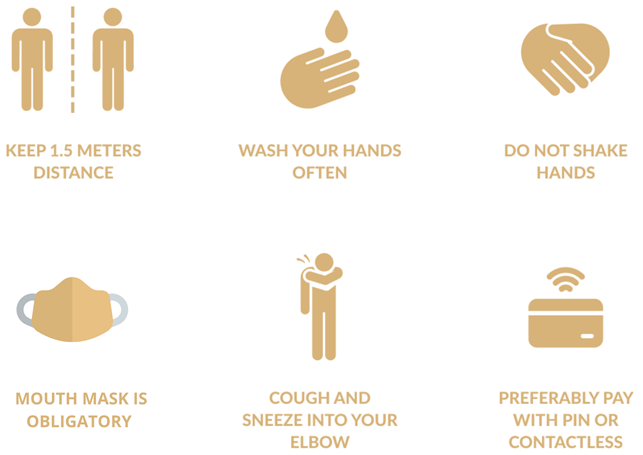 Mouth masks are mandatory in all public areas.
All of the taken measures and guidelines have been based on the recommendations of the RIVM.
Our employees have been instructed on how to work in a safe environment.
Additional protocols for cleaning and hygiene have been implemented.
A maximum of 2 people (excluding children up to and including 12 years old) is allowed in a hotel room, unless you form one household.
The bar, brasserie and our restaurant are closed. It is also not possible to order roomservice.
Hotel guests may order a breakfast box. The breakfast box can be booked and collected at the reception.
Lunch and Dinner are offered to hotel guests by means of a takeaway service.
After 20:00 it is not allowed to serve alcohol.