PLEASE NOTE, VERY IMPORTANT!
Do you have any cold-symptoms, including cold in the nose, runny nose, soar throat, mild cough or a temperature higher than 38 degrees Celsius? If yes, you are requested to stay home and to not visit the hotel.
It is important that you follow the instructions of the hotel staff members during your stay with us. We reserve the right to ask you for your corona QR-code and/or proof of vaccination. If you cannot show this, it is necessary that you respect the 1,5 meters away during your stay. Additionally, all guests and staff members at our hotel are requested to carefully follow the precautionary measures below.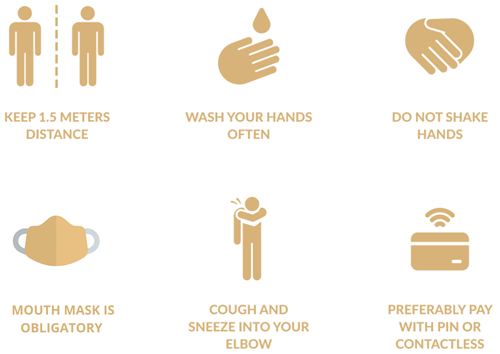 Our hotel uses the following measures
All of the taken measures and guidelines have been based on the recommendations of the RIVM (Dutch health authorities).
Our employees have been instructed on how to work in a safe environment and wash their hands every hour.
Additional protocols for cleaning and hygiene have been implemented.
Please keep in mind that it is obligatory to wear a mask in public areas.
Arrival at the hotel
We would like to welcome you personally and are more than happy to answer any question(s) you may have.
You are given the opportunity to clean your hands in the lobby upon arrival at our hotel.
Our reception is open 24 hours.